Ever wondered what that black paste is that women apply on their faces and then instantly look prettier? Ever wondered if they make that black mask for men's faces too? That Black Mask is called a Charcoal Face Mask.
Our skin is exposed to a number of skin problems like blackheads, whiteheads, acne, and many more. All these skin problems can be put to rest by using Best Charcoal Peel-Off Mask which works like an oil and dirt magnet on your skin.
Benefits of Charcoal Peel-Off Masks : 
Smoothen and brightens the skin
Purifies the pores
Slough off dead skin cells
Treats Acne
List of Best Charcoal Peel-Off Mask :
1. Beardo Activated Charcoal Peel Off Mask
Beardo Activated Charcoal Peel Off Mask works like an oil and dirt magnet on your skin; pulling out all impurities within minutes! Beardo's deadly combination of charcoal, glycerin and aqua help peel all your facial skin woes off to leave you with naturally rejuvenated younger-looking skin!
2. Ponds Men Activated Charcoal Detox Peel Off Mask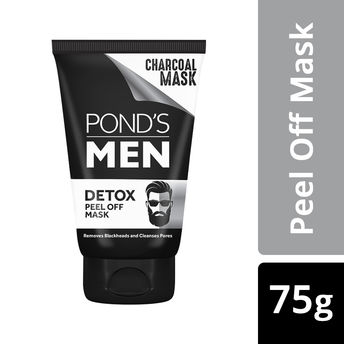 Pond's Men Charcoal Peel Off Mask will deep clean with activated charcoal and give you a brighter skin. Pond's Men presents to you a 20-minute solution to peel off all your skin problems and step out with confidence. Charcoal is an ingredient which gives your skin a thorough cleanse and fights all your everyday skin problems.
3. UrbanGabru CharCoal Peel Off Mask
Ideal for facial skin ageing, fine lines and blemishes, oily skin, large nose pores, effects of radiation. Usage tips test to see whether you have an allergic reaction to this product apply a small amount on the back of your hand or ear. If there's no allergic reaction or discomfort within 5 minutes, you can continue using. For ideal use only 1-2 times a week. Apply just enough of the urbangabru charcoal peel off mask do not put a thick layer as this would be painful when peeling it off.
4. WOW Skin Science Activated Charcoal Face Mask
WOW Skin Science introduces a brand-new peel off mask enriched with the superbly potent activated charcoal. This ultimate, skin purifying Peel Off Mask is carefully formulated to especially unclog the pores by peeling away the pollutants lodged in them, blackheads, dirt and any microbes present – causing breakouts. Activated Charcoal has a deep pull that traps and draws out the most deep seated of impurities including even any teeny tiny pollutants.
5. VLCC 7X Ultra Whitening and Brightening Charcoal Peel Off Mask
With powerful ingredients like charcoal, mulberry extract, turmeric oil and Vitamin C, this charcoal face mask from VLCC removes all the toxins, dirt and hair follicles trapped in the pores. Plus, it controls the access oil produced by the sebaceous glands that further helps ward off blackheads, pimples, dark spots, and acne.
Join our WhatsApp Group to get Regular Updates of Free Courses & Loot Deals :